11-19-2023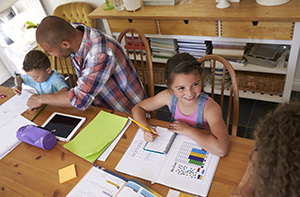 Help Your Child Get in the Mood for Math
Can your child's state of mind affect performance in math class? According to research, the brain's "emotion" and "intellect" centers are connected. They are permanently entwined.
What this means for students is that their feelings can affect their ability to solve math problems. Think about it: If your child is nervous or upset about doing a worksheet, answering the questions may be a struggle. But if your child is calm and confident, things are likely to go better.
To encourage a positive attitude toward math:
Remind your child that effort leads to achievement. Does your child claim not to be able to do math because "I'm just not smart"? That implies people are either born intelligent or not. But that isn't true. The more people try and learn, the smarter they get.
Send the right message. Instead of saying, "That problem looks really hard," say, "That problem looks like an interesting challenge." A student who worries about something being too difficult may decide it is and quit. Let your child know that figuring out challenging math problems is rewarding and fun.
Teach your child to relax. If jitters get the best of your student when there's math to do, take a few deep breaths together. Suggest that your child picture something happy or fun. Say, "You know more than you think you do." Helping your child feel calm before picking up a pencil improves chances for success.
Brought to you by:

West Point Consolidated School District
© 2023 The Parent Institute, a Division of PaperClip Media Inc. All Rights Reserved.